Tony's have always said that they are an impact company that makes chocolate and not the other way around, and this month they proved that even further with the launch of its limited edition 'Conversation Bars'. The brand uses every opportunity to educate the public about their mission, this time forgoing their bright iconic branding, stripping it right back to allow 3 important topics impacting the chocolate industry and beyond to be front and centre. A bold and brave move, but a powerful one.
Not many brands are willing to sacrifice their brand identity for the greater good. But these guys have never by the rules! Right from the start they decided to forgo the standard branding blue signature colour for milk chocolate (in the Dutch market) and went for red. A colour symbolising the alarming situation in the cocoa industry . At face value the bars may look fun and whimsical but at every opportunity they have wrapped deeper meaning into the product design. For example, they deliberately divided the chocolate pieces asymmetrically as a nod to the inequality within the cocoa supply chain.
Teun van de Keuk (founder) was shocked to discover how rife slave labour of both children and adults is in West Africa. This is where 60% of the world's cocoa beans are grown and he decided to take action. He wanted to lead by example and managed to prove you could make 100% slave-free chocolate bars. Most chocolate bars eliciting positive emotions, but Teun wanted this boldly coloured and unapologetically outspoken brand to prompt consumers to think before they munch, Breaking the chains of slavery with each bite.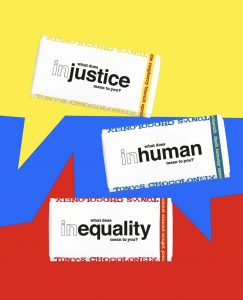 Change begins with conversation and with the launch of these limited edition Conversation bars, the aim is to create real talk, encouraging people to think about issues and use the white space as a blank canvas to share their voice.
We hope more brands take inspiration from Tony's – committing to the cause, championing high levels of research and showcasing empathy at every point. Their chocolate may taste great but we are fully behind them addressing the bitter truth about chocolate.