We love Christmas at SEMA4 (well apart from a couple of anti-Xmas peeps, but we will convert them) and we also love fancy dress. So when these two things combine we couldn't be happier. For some, christmas jumpers are the devil and should be banished into exile with the other so called horrors of christmas. But for us, naff knits are part of the tradition and they just keep getting bigger, bolder and better. Here is our run down of the best, or should we say worst, christmas jumpers out there. Here's hoping one of these beauties is a present under the tree for you this year.
3D Sweaters – yep, you read that right. 3D!
This red 3D ugly Christmas sweater features a stuffed moose bursting out of the chest on the front. We think you will struggle to find something with more of a WOW factor than this.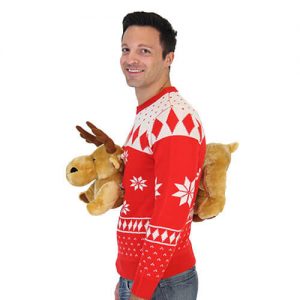 O' baby its cold outside
Picture perfect Christmas' are spent around an open fire. This year you can take that one step further and have that toasty warm feeling everywhere you go, with your very own open fire jumper!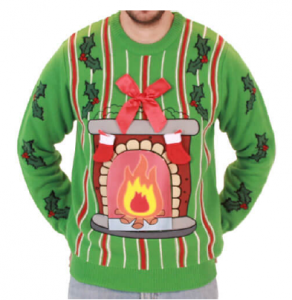 The more the merrier
Some people may call this example one of the greatest jumper inventions of all time. Imagine being able to share all of this christmas jumper fun with your best bud. Well, now you can with this "room for everyone" sweater. Talk about quality time!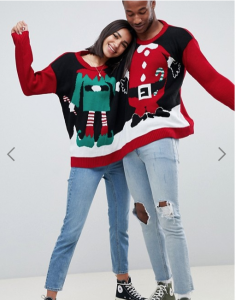 Festive Munchies
Perhaps this one takes it a bit too far, but we are all for combining tasty pastries and knitwear. To honour the lunchtime hero's vegan sausage roll, Gregg's got in on the action with this trippy design. And as if this whole pastry stitch couldn't get any sweeter, 10% of the sale will go to a charity of your choice.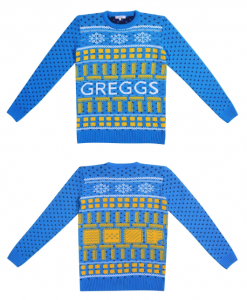 The gift that keeps on giving
With pennies always tight at Christmas why not wrap yourself up with this awesome sweater and become a gift to the world. This sweater even has a place to write who this awesome gift is for and who it is from.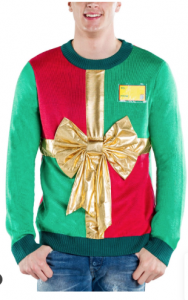 Up the Ante
We wanted to make sure there was something for everyone in this list, so if you are bored of classic Christmas knitwear why not take things up a level and embrace the festive season with this merry 2-piece Christmas suit. Candy canes, presents, holly, Santa, you name it, its on it.